The museum team regularly receive emails from people hoping to make an enquiry into an individual who had a connection to St John Ambulance and/or the Order of St John. Our three Museum Assistants, Jess, Rachel and Isobel, spend much of their time responding to these requests and conducting research into the individuals concerned.  
We cannot always guarantee that we will be able to find additional information on individuals, however, when we do uncover a paper trail, it can be very exciting. If you want any guidance with your own enquiries, take a look at this page of our website which provides more information about the sorts of enquiries we get. 
This blog provides a glimpse into what the process involves.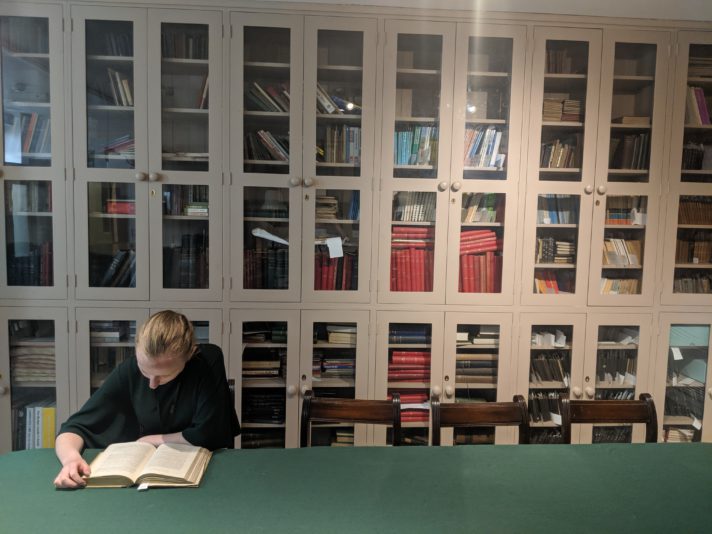 Rachel Job
Since starting as a museum assistant here at the Museum, I have really enjoyed carrying out research into individual people's involvement in St John Ambulance. Each person's enquiry is a little puzzle to be solved. Some end in disappointment, when I find no record of the person's name anywhere in our archives, but there have been many cases when I find more than I could ever have hoped for. 
One person asked me to research a relative who, as it turned out, had been very high up in the Order. Indeed, I discovered that we even have a painted portrait of him, many of his medals and designs for his coat of arms in our collection.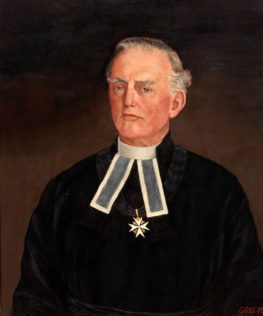 Recently I was asked to research someone who I was told had been a Lady of Grace of the Order, a very high grade of membership. And yet I could not find her name in the Roll of Order Members and nor could I find a citation (nomination form) for her. I looked in every possible record I could think of to try and find her name, but to no avail until our curator suggested I might check the annual report for the year I had been told she had become a member, just to be absolutely sure. And there she was. The same annual report announced both her admission to the Order and her sudden death very soon afterwards. The Order Roll, compiled every year or two, only lists living Order members. The woman in question was a member so briefly that she never appeared in an Order Roll. It was nice to have her membership confirmed, but I would still love to know more about her as she must have rendered quite exceptional service to have been made a Lady of Grace. I do know she served in Italy, and often we have fewer records of those who worked abroad, so this may explain the difficulty. However, I was once delighted to find a service medal record for someone based in Malta whom I had expected to find nothing out about. 
Isobel MacAuslan
Before I began working for the Museum of the Order of St John, my knowledge of St John Ambulance was very limited. Conducting research on individuals who have committed much of their spare time to the organisation has been the perfect way to gain a greater understanding of the history of St John Ambulance and the lives of its members. It was soon evident to me that over the last 140 years, the organisation has engaged people from all walks of life, all over the world, united by a passion to care for the sick and injured.  
One of my first research enquiries helped me understand that the history of the organisation is everywhere and can be hidden in plain sight for those who do not know to look for it. The enquiry involved a lady who played an important role in establishing a division of St John Ambulance in a seaside town that my family have visited annually for over sixty years.    
The lady I was researching had spent a lifetime involved in St John Ambulance, a service for which she was rewarded with several promotions within the Order of St John, concluding with an appointment to the rank of Dame in the late 1950s. In addition to this, she received an MBE for her work, the first member of St John from her local area to receive recognition of this sort. During her lifetime, she served with two nursing divisions in the several miles from her hometown before founded Nursing, Cadet and Ambulance divisions in the town itself. In addition to this, she initiated several First Aid Tournaments for members of her region to compete against each other. In the early days of her career with St John, including during the First World War, she assisted at the local Cottage Hospital, putting her training into regular practice. She rose up the ranks of her District, serving as County Officer then County Superintendent. In this capacity she helped to found St John Ambulance Units in nearby towns. During the Second World War, she ran training courses for ARP officers and served as one herself. Her forty-year career with St John shows a passion and dedication to the service which was clearly appreciated by those around her.  
That summer, whilst walking down the high street, I spotted the emblem of the Order of St John on the side of a restaurant. On closer inspection, it was a memorial plaque to a gentleman whose wife had donated the building to the local St John Ambulance Brigade in his memory. That was in 1948. I like to think that the lady I researched would have visited the building!   
Conducting this research helped connect my understanding of the organisation at large, with its long international history, to the lives of ordinary people across the world who commit much of their time to developing their skills and caring for others. Connections to St John can be found in all sorts of places and histories.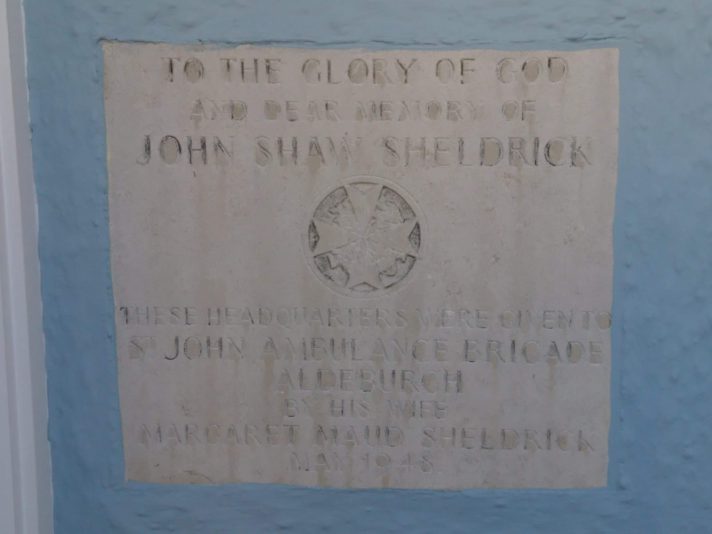 Jess Swift
I have been working at the museum for less time than my two colleagues but have already had lots of research enquiries to delve into. While many sadly produced little or no information, some have uncovered fascinating stories of dedication and hard work.  
A recent enquiry came to me from someone interested in researching her family history in general. The few facts she knew about her grandfather were his full name, where he lived, the date he died and that he was involved in St John in some way! Luckily, this is all we need to start searching.  
On looking through our archive, I did find that this individual had joined St John Ambulance as a member in the early 1900s and we actually had rather a lot of hand written information for him from his colleagues who were nominating him for promotions and admittance to the Order. It turns out that these files held even more information than usual, describing his profession outside of St John (an unusual thing to uncover in our records) and that due to his position as a busy and prominent Doctor, he had been excused from regular drills that all members are required to attend.  
Through reading the pages of nominations, I was able to build a good picture of what this persons St John career had developed – after joining as a volunteer first aider, he had proven himself very good at organising events and fundraising. As such he became divisional secretary, helping to organise the local division and their activities. Later the same year, he organises and holds a bazaar which raises enough money for the division to buy their own building! An enormous sum. He is then made (in addition to being a doctor, a volunteer and divisional secretary) honorary secretary for the building he helped to purchase. He goes on year after year doing fantastic work to fund the Brigade's efforts until the break out of the war. Now this is sometimes where our records become much more scant – but it turns out that this individual decided to turn the St John Ambulance building into a hospital for soldiers. Using his connections and expertise, he secures hospital beds and equipment to transform the building into a hospital, and treats the sick and injured himself. He tended to over 1000 patients, soldiers from both home and abroad. He was then also appointed Honorary secretary to the finance committee!  
Alongside all this fantastic work, this person also facilitated twice-yearly examinations from 1910 to 1925, in both First Aid and Home Nursing, which resulted in the awarding of over 600 certificates, and even more re-examination vouchers and medallions (for those who took the tests every year to stay qualified). He also organised and helped to teach first aid. In 1926, he was admitted to the Order as a Serving Brother. While our records stopped here, I'm sure that he would have gone on to do many more exceptional things! If our research can add even a small story to someone's family history, it feels like a more complete picture.  
I have been inspired by undertaking these enquiries to see if there have been any St John folk in my own family! Maybe one day I will be able to share my own historical connections to St John. My dream enquiry is to hear from someone who was awarded a lifesaving medal.