In 1798 the Knights of the Order of St John were dramatically expelled from the island of Malta—their home for over 250 years—by Napoleon. Only two years later the French themselves were driven out, and Malta became a protectorate of the British Empire. It remained under British administration throughout the Victorian era and into the 20th century. Our Museum holds a fantastic collection of objects from 19th century Malta, including mass-produced guidebooks, souvenirs, and artworks, all designed to catch the eye of curious British visitors. These objects offer an intriguing social commentary on Victorian travel and leisure practices, revealing a continuing British fascination with the exploits of the Order of St John and with the island of Malta more generally.
During their time on Malta, the Knights of St John held significant power, but by the late 18th century their influence had waned. Malta's strategic military location in the Mediterranean Sea made it a target for the expansion-minded Napoleon, and French troops were able to capture the island with relative ease. However, their hostility towards the native Maltese and their unpopular governing practices caused an immediate rebellion, which was soon supported by a British naval blockade. In 1802, after months under siege, French troops departed, and Maltese leaders invited the British to take control of the island. Plans were made to return Malta to the possession of the Knights of St John, but Malta's ideal location as a military base and trade hub encouraged the British maintain their presence here.
British troops were immediately garrisoned on Malta, and military servicemen were a highly visible early presence on the island while hostilities against the French continued. As more visitors arrived from abroad, a trade in gifts and trinkets developed, including the  sale of distinctive, brightly-coloured figurines, often depicting military characters in regalia. These cheerful, lifelike models were made cheaply using papier-mâché, and would have reflected the strong military character of the island under early British administration.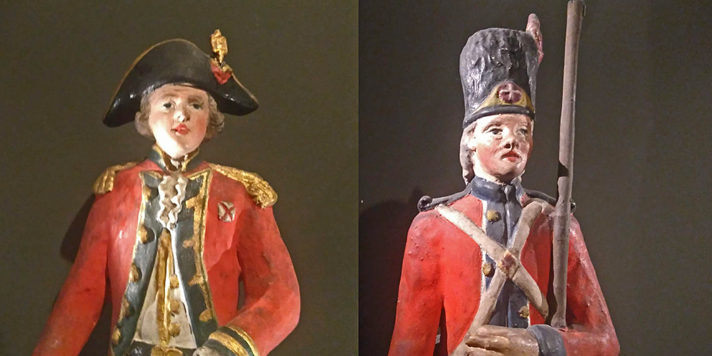 Models were also made in other styles, and the Museum's collection includes Maltese farmers, Catholic religious figures, and even Knights of St John. These figures are evidence of an industry designed to service curious visitors from abroad, but they also give an interesting insight into British perceptions of Maltese culture. While peasant figures often appear romanticised, Knights of St John are portrayed in fine robes, playing on Victorian perceptions of the Order as powerful, aristocratic, and wealthy.
British troops brought shipbuilders, labourers, and clergymen to Malta in their wake, along with ambitious traders and merchants keen to exploit new commercial opportunities. While military interests played an important role in early movement to Malta, the increasing availability of cheap travel attracted visitors motivated not by their occupations but by curiosity and the pursuit of pleasure. These early tourists drove the Maltese souvenir industry, giving renewed impetus traditional Maltese handicrafts like lacework and carpentry. Queen Victoria is said to have ordered lace mitts and a shawl from Malta, and the pietra dura style of marble-inlaid furniture (first brought to Malta by Italian craftspeople in the 16th century) became fashionable.
Another fruitful occupation alongside the manufacture of souvenirs was the writing and publishing of travel guides for tourists. The Museum's book collection includes several editions of George Percy Badger's Description of the Islands of Malta and Gozo, a popular publication first issued in 1838 and reprinted nine times before 1900. Badger writes that "the late facilities offered by steam navigation to all the curious and the learned […] have greatly increased the number of strangers in Malta", and goes on to describe the purpose of his book as "to afford numerous English travellers […] making a shorter or longer stay at Malta, some assistance in the knowledge or investigation of these islands".

Badger, the son of a British army officer stationed on Malta was well attuned to the growing popularity of the island with visitors from back home, and his upbringing on the island had given him some knowledge of Maltese culture and history. His guidebook includes glossaries of useful phrases in Arabic and Maltese, melodies for local folk songs, and a full itinerary of the island's most picturesque destinations. Badger also includes a detailed history of Malta, including a lengthy treatise on the Knights of St John. Guide books of all kinds were hugely popular with Victorians, and Badger's offering sits alongside widely-read titles like John Murray's Hand-Book for Travellers on the Continent and George Bradshaw's guides to Britain's railways, both first published in the 1830s.
Malta soon became a civilised destination for visitors from abroad, but some of its earliest civilian arrivals were writers and artists, who sought adventure, inspiration and new experiences. One early visitor whose exploits would later have a lasting impact on the Victorian imagination was the colourful George (Lord) Byron, a wealthy aristocrat and aspiring poet who visited Malta while taking the "Grand Tour" of Europe as a young man. The Tour, a cultural expedition designed to take in Europe's great landmarks and cities, had originated in the 17th century as a rite of passage for all young noblemen. It had expanded, by Victorian times, to include Malta, both as a useful transit point for travellers in the Mediterranean, and as a spectacle in its own right. However, Malta was still in the early years British administration when Byron arrived in 1809. Byron had a torrid stay in Valletta, spending almost a month quarantined aboard his ship with fever. His permanent limp also meant that he struggled with the city's many flights of steps, inspiring him to write the poem Farewell to Malta, which included sarcastic couplet:
Adieu, ye cursed streets of stairs!
How surely he who mounts you swears!
While Byron considered Malta nothing more than a "little military hothouse", it proved far more pleasurable for later visitors. In 1831 the great novelist Walter Scott spent three weeks in Malta convalescing from illness, and even started a new work inspired by the Great Siege of 1565, one of the best-known military episodes in the history of the Knights of St John. The artist and writer Edward Lear, also spent productive time here drawing inspiration from the beautiful scenery on Malta's sister island, Gozo. He revisited on many occasions, referring to Malta as "that much beloved place".
While some artists used Malta as a spur to creativity, others capitalised on the commercial opportunities afforded by its growing popularity, commissioning and producing artworks which would appeal to British visitors. Charles Frederick de Brocktorff—a German army officer who had settled in Malta in around 1810—set up an art studio in Valletta, where he made watercolour paintings depicting famous sights, including St John's Co-Cathedral and the Grand Harbour. His four sons soon joined him in his enterprise, and one of them, Giuseppe, was even responsible for illustrating early editions of Badger's guide book.
Other artists supplied engravings of landscapes and cities which could be easily mass produced and sold as postcards or in print collections. One engraver, Edward Finden, made a set of illustrations to accompany an early biography of Lord Byron, including a view of the Valletta harbour inspired by the poet's brief stay there. Byron's arch behaviour, far-flung travels and tragic early death had captured the attention of Victorians, and Finden commissioned renowned painter J.M.W Turner to produce a study of the Valletta harbour as the basis for his engraving; Turner's name can be seen credited in a version of the print in our collections. Turner, perhaps aware of Byron's unpleasant experiences in Valletta, noted down an article on the symptoms and treatments for "Maltese plague" in his diary. He ultimately never visited the island, choosing to base his study of the Valletta harbour on paintings by other artists.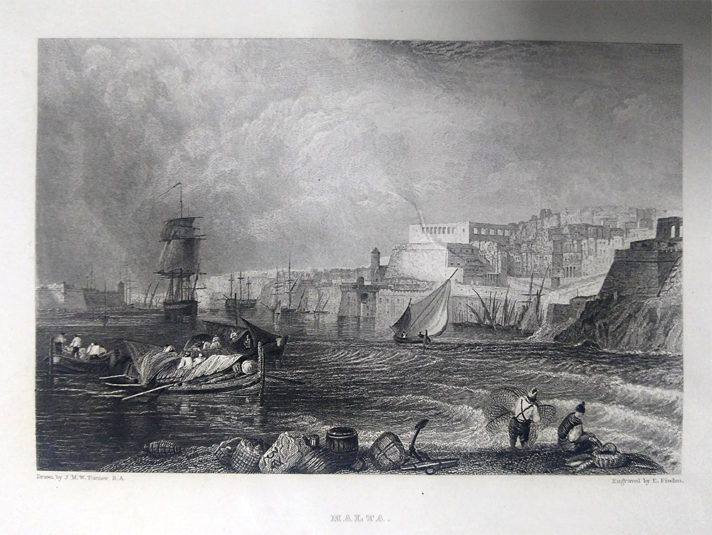 Finden's engraving, Turner's painting and Byron's writings all drew on a growing popular interest in Malta while in turn helping to cement the island's identity in the public imagination. While Victorian interest in Malta grew, the new Venerable Order of St John was being established in England by revivalists keen to assert their connection to the Order's history and heritage. This double fascination with Malta, both as an object of popular curiosity and a site of historical and institutional importance, may explain why our museum now holds such deep and interesting Maltese collections. Our objects tell the story of the Knights of St John, but they also tell us about the Victorians who hoped to revive this story in a new era.