As you enter our Cloister Garden, you may have noticed the beautiful sculpture on the Eastern Wall depicting the Crucifixion. The sculpture presents Christ on the cross, surmounted by the Order's eight-pointed cross on circular base, with angelic figures kneeling either side in prayer.
The sculpture was created by Cecil Thomas (1885 – 1976) in 1960 to honour those who had fallen whilst serving with St John in the First and Second World Wars. Having survived the war, despite receiving serious injuries, Thomas made a living sculpting effigies and memorials. In addition to the sculpture in our Garden, he also made effigies of various public figures which can be seen at locations such as Canterbury Cathedral, Southwark Cathedral and All Hallows-by-the-Tower. Additionally, he was commissioned by the Royal Mint on several occasions to design coins and medals. In 1938 he was made a fellow of the Royal Society of British Sculptors.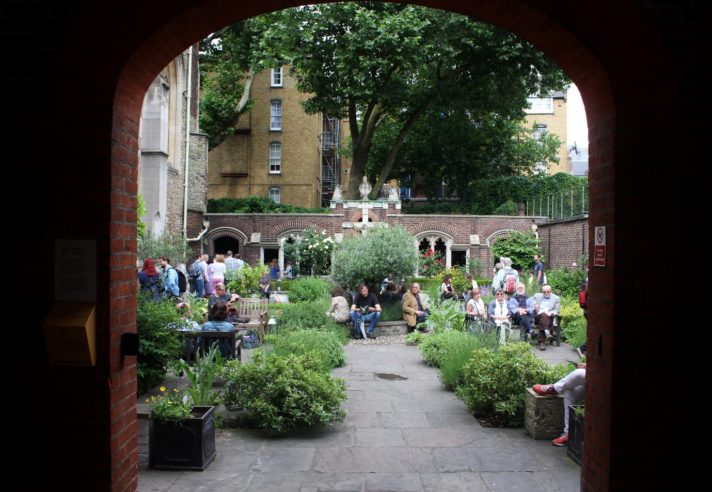 As this sculpture is permanently outside, it is vulnerable to damage from the weather and the natural environment. As such, a conservation project was undertaken in October 2018 to ensure that the sculpture would remain in a good condition for as long as possible. We had to close the garden for a period, as the position of the sculpture meant we would need to build scaffolding in order to safely access all parts of the piece.
Much of the work required on this piece was delicate but thorough cleaning. Specialist products were used to remove natural staining on the white stone, and the green copper staining was cleaned separately. Any small cracks in the stone were grouted with special grout and syringes. Part of the statue was even filled with a custom mix of cleaning agent, Portland stone dust and sand and covered with damp hessian to allow it to set without drying out, which would encourage crumbling. This technique was also used to repair missing corner sections of stone. Some areas required steam cleaning, a specialist skill when working with these materials. After all staining and deposits were cleaned off, the areas which had shown the most staining were coated with a special biocide to stop lichen or other biological growth staining the statue in the future.