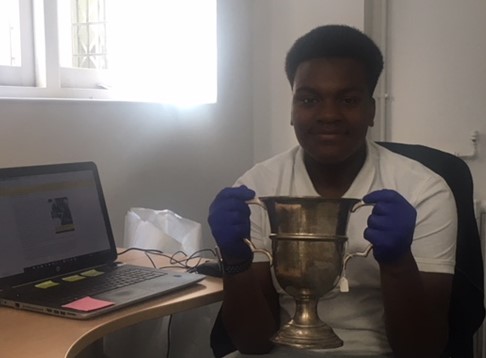 Hi, my name is Liam and I'm a student at Hertford Regional College. I wanted to do my work experience at the Museum of the Order of St John, as I'm a St John Ambulance Cadet and would like to become a historian.
This week I have done lots of different jobs at the Museum. I have worn special blue gloves so that I could handle trophies and take their measurements. I also wrote down the names of the trophies and all the people and teams who have won them on a spreadsheet to help make research quicker. One of the trophies I am particularly interested in is from the St John Ambulance Brigade in Warwickshire, 'The Bonham Memorial Cup' (SJA 070129/12). The cup base does not fit the cup itself and so I think it is missing a bit in the middle, but I cannot find any photos of it. I have also enjoyed looking up the hallmarks and know that this cup was made in Sheffield. Trying to find out more about the cup made me feel like a historian!
During my work experience, I have also learnt more about how the Museum runs especially when I was helping at reception. I learnt about evacuating the Museum in a fire, how people's historical enquiries are answered, and I got to see behind the scenes in the archive and collections stores. As someone who already knows a lot about the history of St John, I also loved finding out more and so I went on two tours. One of the tours is new and is all about the time when the Order of St John was in Malta and I learnt a lot.
I have had a fun time doing my work experience and I know a lot more about all the different jobs that there are in a museum.