Princess Margaret was born in Scotland on 21st August 1930 to the Duke and Duchess of York. Upon the abdication of her uncle Edward VIII in 1936, Margaret's father unexpectedly became King George VI. She became second in line to the throne after her elder sister Elizabeth, who became Queen Elizabeth II in 1952. Margaret spent her life in the pubic eye, serving as a working royal and subject to great media attention.
Charity work was the primary focus of Margaret's official duties. Throughout her life, the Princess was involved with St John Ambulance. Margaret served as Commandant-in-Chief Ambulance and Nursing Cadets from 1947 to 1970 and then as Grand President from 1972 until her death in 2002. This painting was painted in 1950, in the early stages of her involvement with St John.  As part of this role, she engaged in royal duties, visiting divisions, presenting prizes, watching first aid demonstrations and inspecting members. In video footage from the British Pathé, taken in 1948, Margaret can be seen presenting prizes. This photograph of the Princess was taken on a visit to Lincoln Cathedral in October 1970. Margaret attended a service of the Order before inspecting the cadets and watching first aid demonstrations. The image was published in St John Review, December 1970.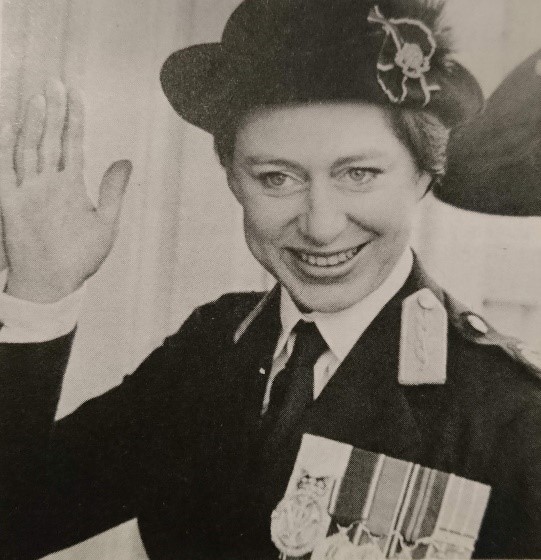 Margaret was a glamorous and fashionable royal, often the focus of much media attention. Her association with St John helped raise the profile of the organisation. A St John Ambulance Brigade fundraiser in November 1953 at which Margaret entered through a guard of honour made up of six ambulance and six nursing members was deemed an "unqualified financial and social success".
The artist, Henry Marvell Carr, specialised in landscape and portrait painting. Having trained at Leeds College of Art and the Royal College of Art, he served in the First World War. Following the end of the conflict, his work was exhibited at the Royal Academy. During the Second World War, Carr served as a war artist on behalf of the War Artists Advisory Committee. In 1948, he was elected a Fellow of the Royal Society of Portrait Painters and pursued a career as a portrait painter.