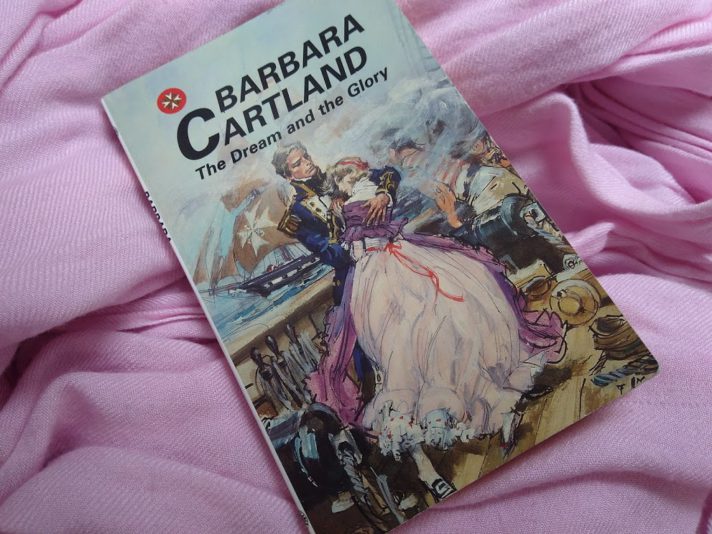 Barbara Cartland was at one time among the best-known media personalities in Britain. Famed for her prolific output as a writer, she published some 700 romance novels in her lifetime and was dubbed the "Queen of Romance" by Vogue magazine.
Though her frothy novels were never critically acclaimed, they were immensely popular, and she is thought to have sold over 750 million copies of her many titles, putting her close to William Shakespeare and Agatha Christie among the best-selling authors of all time. Cartland would dictate the text of her novels to her hardworking secretary, almost always working from the living room of her Hampshire mansion, which she wryly referred to on many occasions as "the factory" for its prodigious literary output. Nearly all her late novels were historical cape-and-codpiece efforts full of spirited period detail, despite her insistence that she "never really believed a man in a wig could make an attractive lover".
In her later years, Cartland was famed for her colourful fashions, her forthright opinions and her occasionally caustic wit, but her writing and her lifestyle frequently obscured her long history of charitable and voluntary work for many organisations, including St John Ambulance. She gained respect for her efforts as a volunteer organiser and fundraiser for St John during and after the Second World War, and later in life she published an exclusive new novel to raise money for the organisation.
Cartland was born in 1901 to a family with military connections; her grandfather, an army major, was killed in the First World War, and she grew up in London in difficult financial circumstances, often looking on with envy and fascination at the lifestyles of London's high society set. She sought to chronicle that milieu in her first job as a gossip columnist, and in her early attempts at fiction. Cartland aspired to be a popular middlebrow novelist, and her first efforts, already firmly within the romance genre, were often well received. The early Cartlandian universe was gloriously captured by one critic in the Telegraph, who described her classic male protagonist as a "sensitive, introspective, idealistic man, miserably lonely, hating pretentiousness, carrying the weightof his riches with dignity and courage".
Her career as both author and journalist progressed well, but during the Second World War her life changed significantly. Both of her brothers were killed in action at Dunkirk, an event she looked back on as one of the great tragedies of her life, and she was subsequently inspired to find her own way of supporting the war effort. Cartland joined the Women's Voluntary Service (WVS), as a welfare officer, with responsibility for looking after servicewomen. Already a self-proclaimed expert in matters of love, she took an informal role as a wedding planner, obtaining and loaning out wedding dresses to service brides who would never otherwise have had the chance to celebrate a white wedding in their straightened wartime circumstances.
Cartland's connections to St John Ambulance started when she invited Edwina Mountbatten, a well-known society figure and hugely respected figure within St John Ambulance, to give a speech to women officers at an RAF base in Cardington. Cartland was impressed by Mountbatten's speech and spoke of her as one of the few women she admired without reservation for her dedication to her work. Yet equally importantly, she was fascinated by Mountbatten's recounting of the exciting, chivalric history of the Order of St John back to its origins after the First Crusade. When the opportunity arose to work as an organiser for the St John Cadets in Bedfordshire she was quick to volunteer.
She organised revues and activity camps for cadets, and even wrote them their own marching song, which became widely used. Later, she organised a St John Ambulance exhibition which was opened by the Queen, and toured the country raising over £50,000. For her efforts, Cartland was invested as a member of the Order of St John in 1946, and subsequent work saw her awarded the rank of Dame of Grace within the Order.
In her seventies, which much of her organising behind her, Cartland found a unique and memorable way to contribute further to St John with The Dream and the Glory a new novel exclusively written to raise money for St John Ambulance. On its release half of all profits were donated. Subsequent reissues saw all their profits handed over to St John.
The novel's cover art, by British illustrator Francis Marshall, promises all the drama, passion and swashbuckling action so typical of Cartland's late writing, and the sight of an eight-pointed cross emblazoned on the sail of a distant galleon indicates a story which returns to the same chivalric, romantic vision of the Order's history that had so captivated Cartland when she first heard Edwina Mountbatten speak of it.
The novel is characteristically light on historical detail, but Cartland took the time to conduct some key research to ensure the text would be reasonably accurate. She had originally planned for the brave and winsome male romantic lead to be a Knight of the Order of St John, but was dismayed to discover that the Knights were obligated to take an oath of chastity. Undeterred, she reworked her tale to include a dashing naval officer whose oaths were of a very different kind.
The novel was released in 1977, in time to celebrate the centenary of the St John Ambulance Brigade, and a launch party was held at St John's Gate, where Cartland conducted a signing session. Thought Cartland's efforts for St John Ambulance were varied and longstanding, her novel is perhaps the most characterful and entertaining expression of both her charitable motivations and her unique literary talents.