My name is Katherine and I am volunteering with the Museum of the Order of St John for one month thanks to support from the British Numismatic Society's Placement Bursary. I am currently an undergraduate studying archaeology at the University of Leicester about to go into my final year in September. The project that I am working on at the Museum involves selecting, cataloguing, and researching medal sets, like the group of medals of Susie George. It is interesting to see how the documentary evidence that accompanies the medals adds another layer of depth to their story and presents a bigger picture of the life of the medals' owner.
Each of Susie's medals hints at her extraordinary service, and I was keen to discover more about the woman behind them.  As I researched the medals and the conditions of their award I began to get a feel for the circumstances in which Susie, and many other women and men, would have found themselves in during the Second World War. I was delighted to discover that along with the medals, a collection of papers had also been given to the Museum.  These papers helped to reveal the personal story behind the medals.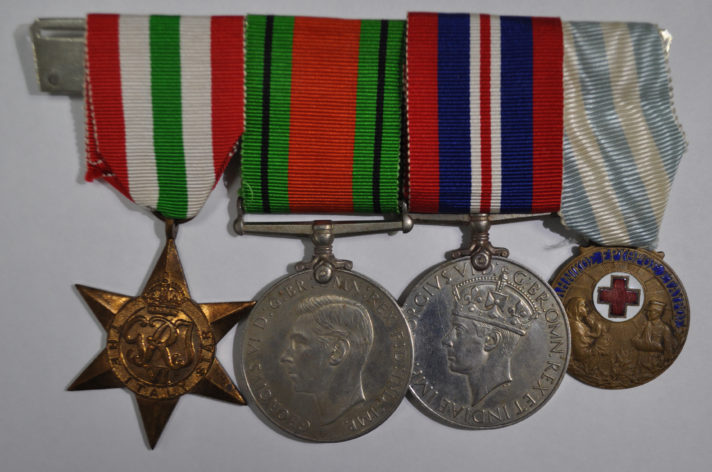 Susie George was an incredibly hardworking individual, committed to nursing and helping others. She volunteered with St John Ambulance Brigade during the Second World War, both at home and overseas, persevering through ill health and political unrest. She then carried on her relief work overseas after the war was over throughout 1946 and 1947. In addition, when she returned home she continued volunteering as part of the first Air Unit with her local Berkshire St John Ambulance Division.
St John at Home
Before leaving England to go overseas Susie volunteered with the Civil Nursing Reserve (C.N.R.) as a Nurse Auxiliary. The C.N.R. provided extra nursing staff for civilian hospitals, sick bays, and convalescent homes.  The C.N.R. was different to the Voluntary Aid Detachment as they assisted civilian hospitals rather than military hospitals. These nurses did not have to be medically trained, and by 1942 there were 5,775 serving full time and 16,005 serving part time. Susie first worked at Battle Hospital, Reading from February 1940 to March 1942 and then later in 8 Brownlow Rd, Reading, a residential building that had been converted to a children's sick bay from March 1942 to approximately March 1944. At the same time, she was also a part-time canteen helper at the local Y.M.C.A. in Reading. Susie achieved her first aid qualifications through St John Ambulance passing the Adult First Aid in October 1943 and Home Nursing in January 1944 – perhaps inspired to pursue these qualifications through her experience of working with the C.N.R.
St John Overseas
First mission – Middle East
Susie's official personnel file provided useful dates and information but, Susie also wrote a detailed 15-page diary of her Middle East mission, giving a much more detailed insight about her mission overseas including more personal details such as spending Christmas in a military camp in Egypt.
"Although we were all very far from home and perhaps inwardly, at odd intervals, wishing we were spending the most important day of the year with our own folk, no-one showed any signs of depression, and nothing lacked the Christmas spirit of jollification. There were plenty of dances, whist drives, socials, musical evenings and Carol singing. Christmas day dawned and as I was opening the flap door of my tent, I found Father Christmas had not forgotten me, for there swinging gaily on the main rope of my tent was a small well-filled Christmas stocking. I attended 8 am Holy Communion, in the afternoon there were various competitions and donkey racing, Christmas dinner at 6.30 pm followed by a pianoforte recital."
Susie was originally posted overseas to the Middle East, departing the UK on 21st August 1944 and arriving at Cairo on 8th September 1944. She worked as a Nursing Assistant. This involved treating and caring for the patients and providing essential supplies, but also ensuring the hospital was properly disinfected, had all the necessities like electricity and water as well as medical supplies. They initially arrived at Maadi Camp which was used by the United Nations Relief and Rehabilitation Administration as a training camp. After several weeks of training and lectures they left Maadi Camp for Khatatba Camp on 21st September 1944, where over 7,000 Yugoslav refugees had found shelter and refuge. Yugoslavia had been occupied by the Axis powers since April 1941.  The kingdom had a large population of both Jews and Muslims, and many were detained and died in concentration camps. Most of Yugoslavia's land borders were those of the Axis powers, or countries occupied by them, so the closest safe Allied country was Egypt.
After five weeks in the refugee camp in Khatatba, Susie was recalled to the Maadi Camp on 28th October 1944 where she joined part of a mobile medical team due to depart for the Balkans. However, whilst at camp Susie developed dysentery and was confined to bed rest for 10 days and was still relatively weak after that. Susie eventually recovered and the team attempted to leave for Greece on 5th December 1944 but due to political unrest in Greece they were asked to leave the transport ship and had to return to camp. Similarly to Yugoslavia, Greece had been occupied by the Axis powers since April 1941. Much of their infrastructure and industry was destroyed, as well as whole villages burnt, and local civilians massacred. There was also a large group of armed resistance who managed to liberate mainland Greece in October 1944, but this then led to political polarisation, and later civil war in 1946. This unrest explains why Susie and her team could not initially travel to Greece.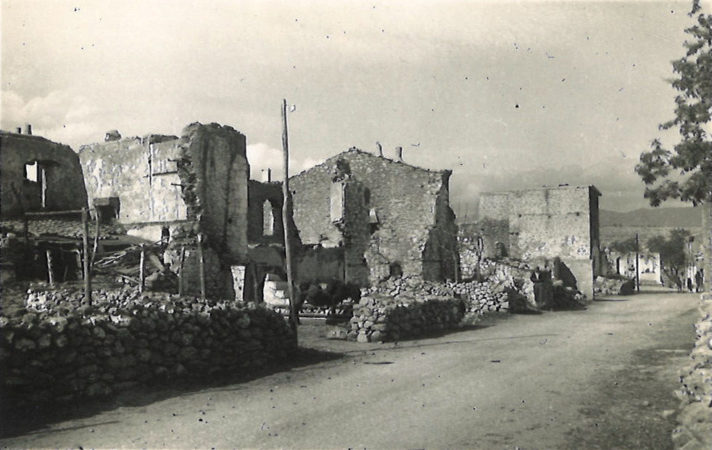 Susie was awarded the Italy Star which is normally for service in the Italian Campaign (1943-45) but was also awarded if serving in the near vicinity, such as Greece or Yugoslavia, during that period, and so due to her service in Greece during most of 1945 was presented with the Italy Star. Susie also received a medal much more related to her Greek service. She, as well as most of the rest of the mobile clinic team, was awarded the Bronze Medal of the Greek Red Cross Society. Below describes in greater detail her service in Greece which will give you an idea of what she did, the people she helped and the conditions they were in as well as the challenges she faced and why she was recommended for the Bronze Greek Red Cross Medal.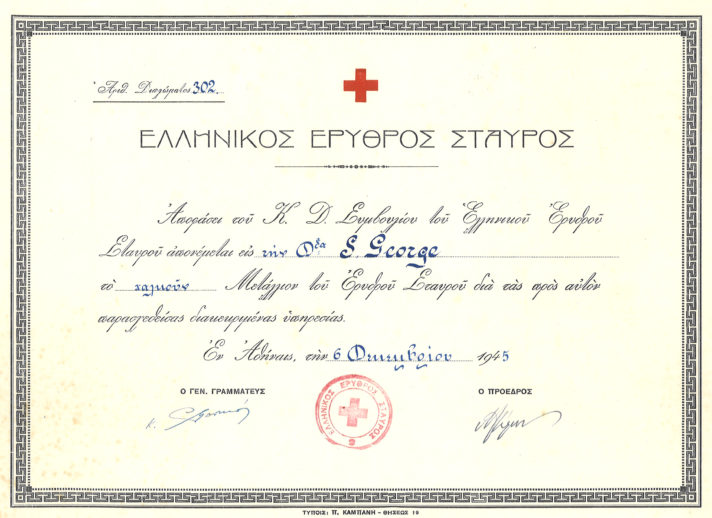 On 8th January 1945 the team were finally able to travel to Greece, arriving on 11th Jan 1945. There were nine members of the mobile medical clinic team including Susie, they visited and assisted in several hospitals around Athens, including a leper colony. On 26th March 1945 the clinic was called to the province of Amfissa, helping multiple remote and sometimes partially destroyed villages. However, at the end of June, Susie became sick with Sandfly Fever for several months. This was a relatively common disease, caused by infected insect bites. As well as fever of up to 40°C other symptoms include abdominal pains, chills, muscle and joint ache and severe headaches. She was finally discharged on 16th August 1945.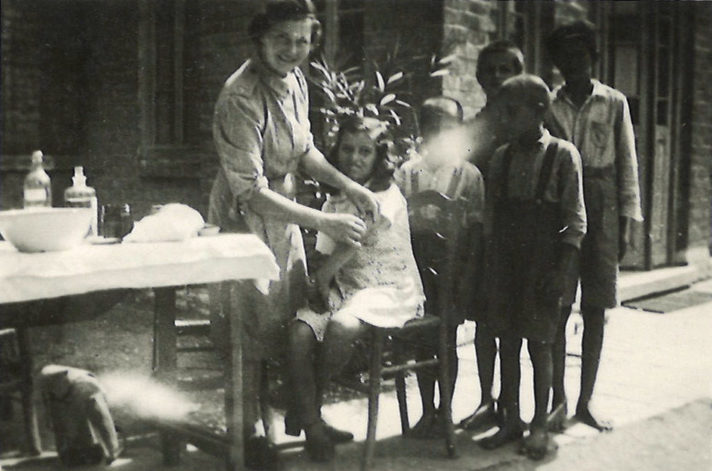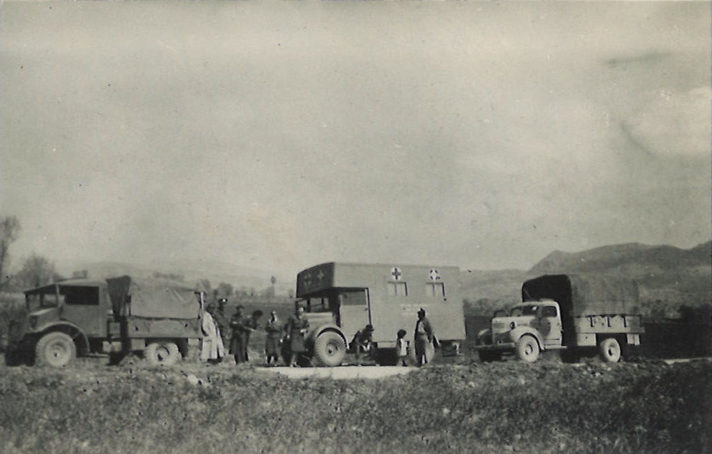 Although Susie's overseas contract was supposed to end on 18th August 1945 she asked for it to be renewed and continued her work and was next sent to Volos, attached to a Mobile, Hygiene, First Aid Unit carrying out similar tasks as to before: visiting villages, distributing supplies and providing medical aid. They then went to the Greek Island of Skiathos but were later recalled to Athens on 14th October 1945 and was then sent to Salonika with a Relief and Rehabilitation Unit to help at a Refugee Camp. On 21st November 1945 Susie left the Refugee Camp and went back to Athens and finally returned home on 6th December 1945.
Susie received both the War Medal (1939-45) and the Defence Medal due to her full-time service in non-operational civilian relief work during the Second World War, providing a small glance into her service and her determination through several bouts of ill-health and carrying on even after her official contract was over. Although her medals only represent her work during the Second World War she carried on her voluntary work with St John Ambulance Brigade with further overseas civilian relief work in 1946-7 and was part of the first Air Unit team.
Second and Third mission – Germany
Susie was later reposted to Germany as a Nursing Assistant for a six-month contract, leaving the UK on 6th February 1946. She worked at a British Red Cross Hospital, Montogomery Hospital in Bad Rehburg. The testimonial written by the head of the hospital, Dr. P. Dismarr, at the end of the six months described Susie as a very capable, conscientious worker. She returned to the UK on 24th September 1946.
But she did not stay at home for very long as less than a few weeks later she was reposted to Germany again, leaving the UK on 4th October 1946. She was a working as a Messing Officer at Wentorf Displaced Persons Camp for another six-month contract. As a Messing Officer Susie was responsible for 20 kitchens including specific kitchens for Special Diets, Infants and Malnutrition. This St John Ambulance Association cookery book provides an insight into the food Susie would have prepared. This section on recipes for cooking in bulk prepared enough for 100 men, considering the number of kitchens in this camp there could have been thousands of mouths to feed with various dietary requirements, some of which were also listed in the book.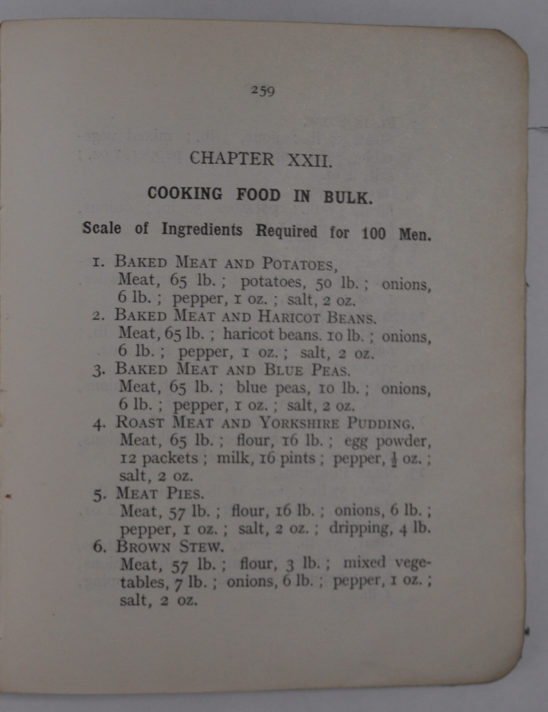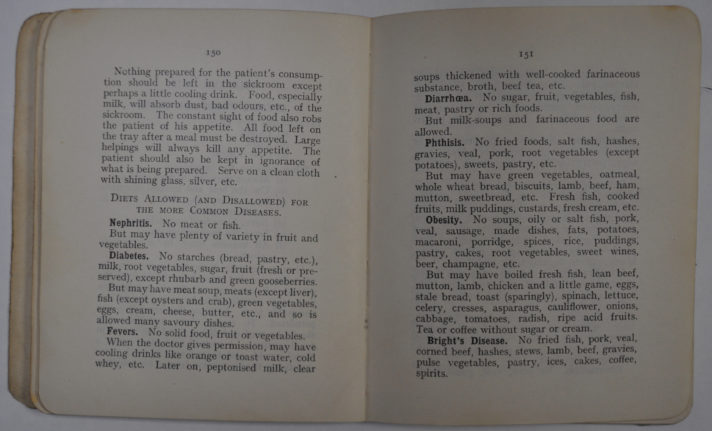 The report for the end of her contract similarly described her as an efficient, dependable and conscientious worker.  She is also said to have had a delightful personality, getting on with both the Displaced Persons cared for at the camp, and her colleagues. You can see in Susie's personal autograph book that she was a well-loved member of the team due to the considerable number of autographs, messages and drawings, some of which are in foreign languages from the Displaced Persons, including Russian, Polish and Lithuanian. The Camp was also visited by Lady Brecknock on her tour of Paris and Germany in 1947. Lady Brecknock was the Staff Officer in 1946 and oversaw Welfare and Civilian Relief carrying out several tours to inspect the overseas facilities. She visited Wentorf on 23rd March 1947 describing the hospital in the camp as "the largest and best equipped I have yet seen in any camp". Susie returned home very shortly after on 26th March 1947.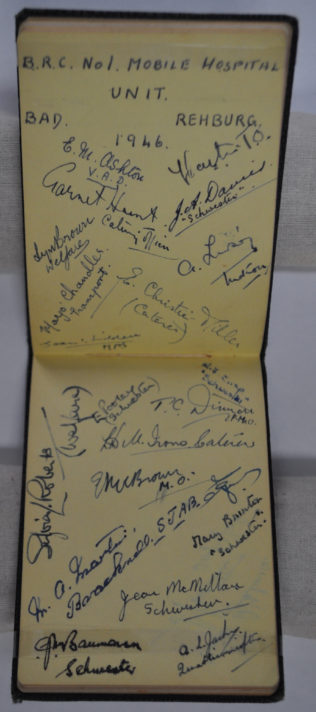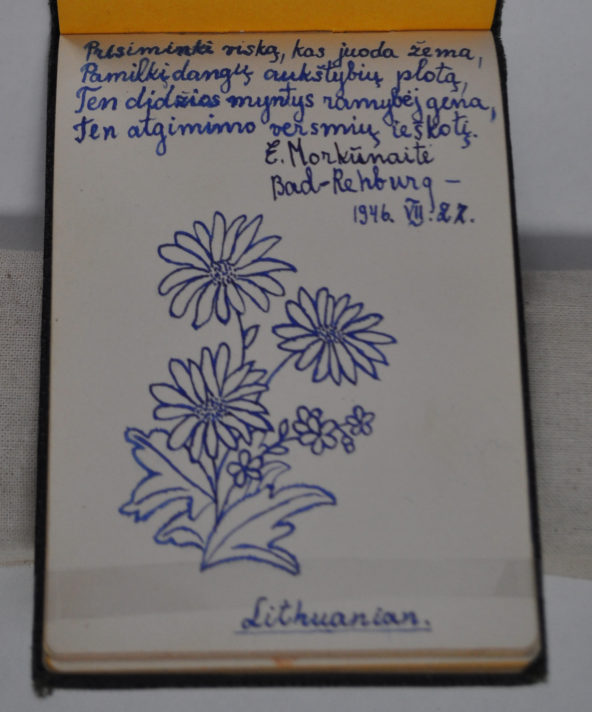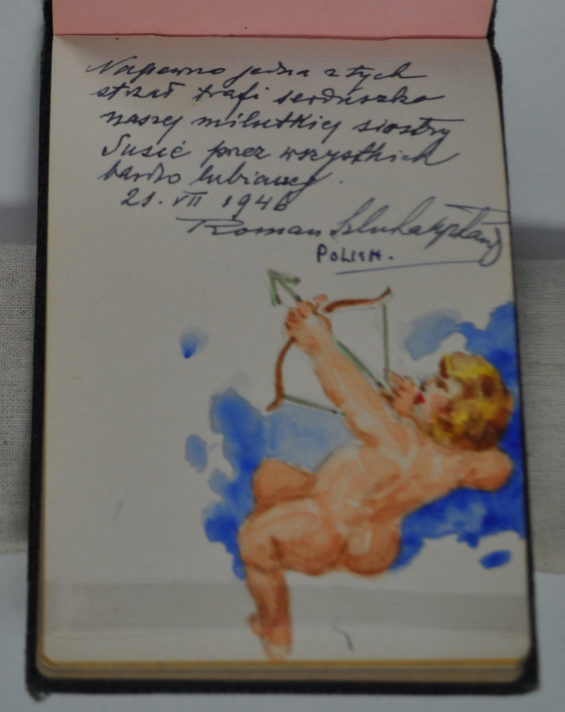 Air Ambulance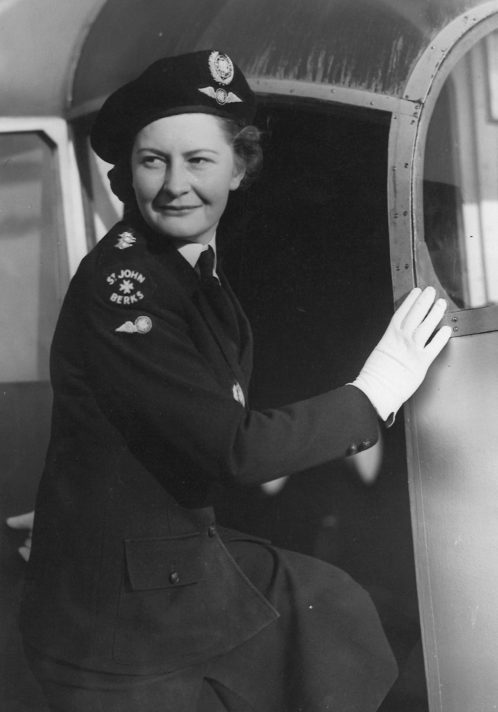 After her time abroad Susie later became the officer in charge of the first St John Ambulance Air Unit in her local Berkshire Division. The Unit had approximately 20 female nursing volunteers, all the members of the Unit were meticulously tested both medically and psychologically to make sure they were suitable for the task and thoroughly trained, including in how to care for and handle patients in the air and even emergency midwifery. The Unit's first mission was the transportation of a patient from Switzerland back to England. The official inauguration of the Unit was in October 1947, where they were inspected by the Deputy Superintendent-in-Chief Lady Dunbar-Smith, as well as several other County officials. But after the initial inauguration there is little to no information about this Air Unit. So, it is unclear how long this Unit lasted and how long Susie George was a part of it. Susie most likely continued to work as a part time volunteer with the Air Unit whilst working as a nurse at various locations, including returning to Battle Hospital, Reading.