What there is to see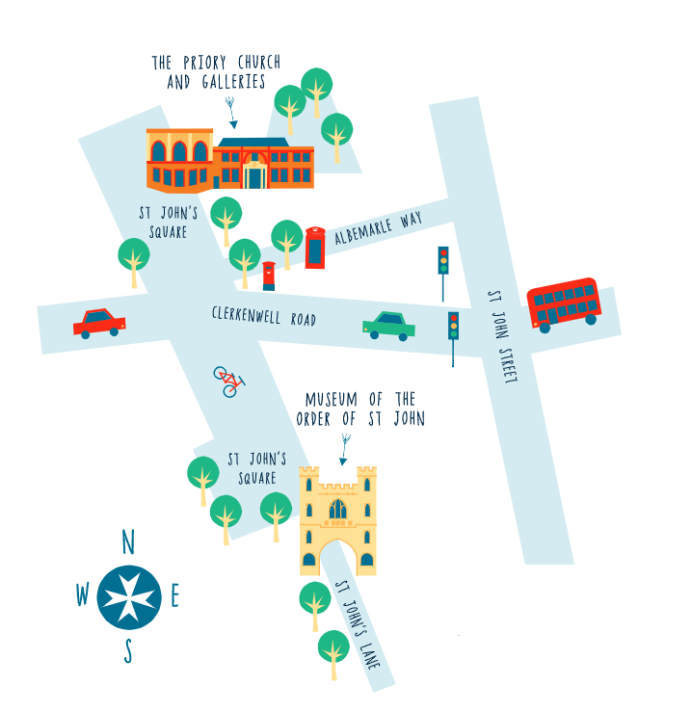 The Museum of the Order of St John is housed in St John's Gate. The Museum galleries on the ground floor can be visited at any time during our opening hours, as can the garden next to our Priory Church. The Church itself, its crypt, and the historic rooms upstairs at St John's Gate can only be visited on guided tours. Please scroll down for details of tours and for information about accessibility.
Entrance is free
Visits to the Museum of the Order of St John are free of charge.
For guided tours we suggest a donation of £5.
Opening times
Monday – Friday, 10am – 5pm
Saturday, 10am – 5pm
Sunday, 10am – 5pm (July, August and September only)
Your journey
The Museum of the Order of St John
St John's Gate, St John's Lane
Clerkenwell
London, EC1M 4DA
Train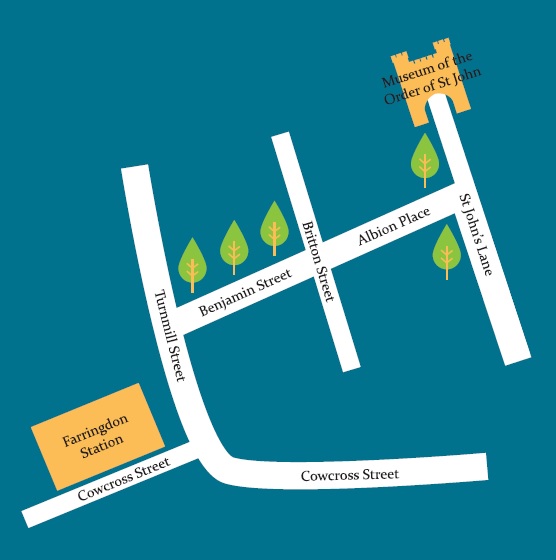 Farringdon (Tube and Thameslink trains) is the nearest station, 5 minutes walk from the Museum (Underground map grid reference C6).
Car
Pay and display parking spaces are available in St John's Square.
(Parking restrictions and charges apply Monday to Friday, 9am to 6.30pm, Saturday 9am to 1.30pm, 2 hours maximum stay). There are also several NCP car parks within walking distance. Please see the NCP website for details.
Bus
Clerkenwell Road (55, 243), St John's Street (153) and Farringdon Road (63).
Further information
You can use TfL's Journey Planner to help plan your journey to the Museum.
Guided tours
Free guided tours are available to the public on Tuesdays, Fridays and Saturdays at 11.00am and 2.30pm. Throughout July, August and September an additional public tour runs on Sundays at 2.00pm.
Guided tours last 80 minutes and include the historic rooms at St John's Gate and the Priory Church and Crypt across the road. The video at the bottom of this page shows what there is to see on a tour.
All tours start from the Museum reception and can take a maximum of 15 visitors at a time with no booking required. Places are allocated on a first-come-first-served basis.  Groups should always make a private tour booking (see below) to avoid disappointment.
We also run short lunchtime tours of the Church and Crypt on Thursdays. Please scroll down for further details.
Please note that on some occasions certain rooms may be unavailable as part of the public tour, and occasionally tours may have to be cancelled due to other events taking place at the Museum. All cancellations are advertised in advance.
The tour involves many steps and a spiral staircase. It is important that you read the access information at the bottom of this page and inform the Museum in advance if you have any access needs.
Private tours
Private tours are also available for larger groups. Please contact the Museum to make an enquiry on 020 7324 4005 or at museum@sja.org.uk.
All private tours are subject to availability, and booking at least a month in advance is recommended to secure a place.
Private tours are charged as follows (per person):
During regular opening hours: £6.00 / £5.00 (concessions)
Outside regular opening hours (when possible): £12.00
with a minimum fee of £25.00 per tour.
Visiting the Priory Church and crypt
Every Thursday at 12.30pm there is a free 15-minute tour of the Priory Church and Crypt, with time afterwards for visitors to have a look around and ask questions.
The Priory Church and the Crypt are also visited on all public and private tours, but outside of these occasions they remain closed to the public. If you would like to visit these historic buildings outside of scheduled tour times the Museum asks that requests are made by phone or email in advance of visits using the contact details listed below.  Visits will be permitted between 10.30am-12.30pm and 2pm-4pm.  Subject to availability.
020 7324 4005 / museum@sja.org.uk
Access
Whilst every effort has been made to ensure that the Museum buildings are as accessible as possible, due to limitations resulting from their Grade I Listed status, some parts of the building are not accessible for visitors with access requirements.
The main Museum galleries are fully accessible and are on one level however, the historic rooms on the upper floors are not accessible for wheelchair users.
For access to the Church, wheelchair users are asked to call in advance of their visit so that we can ensure that a member of staff is available to facilitate access to all areas of the Church site except for the Crypt.
There is a continuously screened virtual tour in the main Museum Galleries, which shows all of the historic rooms on the upper floors of the Museum. You can also explore the historic rooms online.
Large print guides for each gallery are available.
The Museum is equipped with a first aid room, and with baby changing facilities.
You can find more detailed information on our Access page.
Facilities

Virtual tour
You can watch a virtual tour of the historic buildings before you visit.
Museum of the Order of St John from newangle on Vimeo.
A silent visual tour of this fascinating Museum dedicated to the 1000 years of the Order of St John.
Historic Farringdon
While you are in the area, you may like to explore some of the other interesting historic sites, using an audio tour created by GeoTourist as part of their Epic England series. You can download the GeoTourist app onto your smartphone and listen to the tour at https://geotourist.com/tours/2364. The tour was created by The Ring, a consortium of cultural organisations clustered around Farringdon station and includes the Charterhouse, the Museum of the Order of St John, St Bartholomew's Hospital Museum, Smithfield Market, and the churches of St Bartholomew the Great and St Bartholomew the Less.
>h2>Guided Walks
You can also more about our local area by attending a guided walk with our tour partners Islington Guided Walks who offer tours covering many aspects of our borough's history.