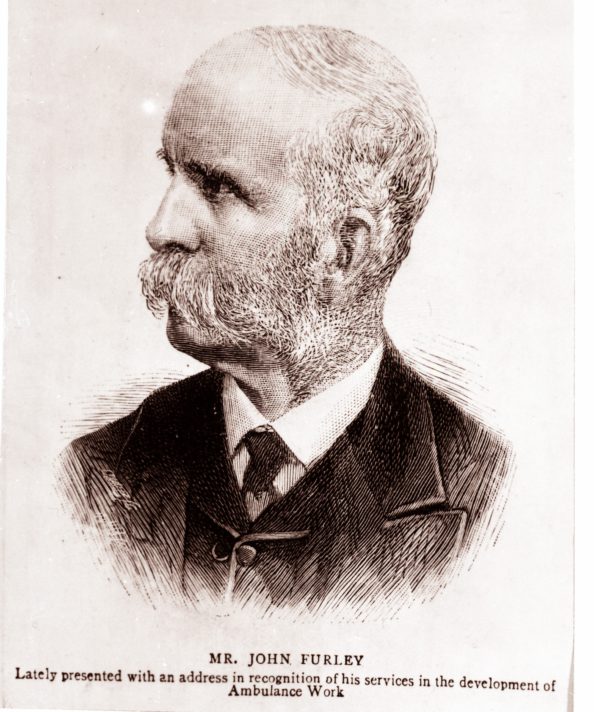 Despite being a pivotal figure in the development of the First Aid Movement, Sir John Furley is not widely known. Born in Ashford, Kent in 1836, Furley devoted his adult life to the promotion of organised treatment for the sick and wounded. Not only did he play a crucial role in both the Red Cross movement and the foundation of St John Ambulance, but he pioneered important technological advances concerning the transportation of patients.
Warfare was very common in the nineteenth century. Many soldiers were being injured and observers were horrified at the poor conditions that they were being treated in. In this context, the Red Cross Movement emerged to provide humanitarian aid to the injured during battles. The Geneva Convention was held in 1864 to grapple with the legal problem of neutralising wounded soldiers. It outlined that the wounded and ill should be collected and cared for by any side whilst hospitals should also be treated as neutral.
For John Furley, in his own words, the military "always had a great fascination for me"[1]. Deemed too weak to become a soldier, Furley initially toured Europe as a young man, making a failed attempt to join the action during the Crimean War. He returned to London to train as a Lawyer and would visit the Scots Guards at Albany Street Barracks daily to do drills. Back home in Ashford he participated in the volunteer military movement for fourteen years. An interest in the Geneva Convention and his continued fascination with warfare led Furley to travel to Europe to observe the Danish-Prussian War of 1864 which was being fought over the territory Schleswig-Holstein. Later, he would describe the experience as his "apprenticeship in war".  At this time, Furley was also made a member of the Order of St John, an organisation in which he was to play a major role.
Furley was a founding member of the British Red Cross Society, an organisation that he was keen to see established in Britain to provide care at times of war. After traveling to Berlin in 1869 for the Conference of the Red Cross Society Furley pressed for a British branch to be formed in response to the outbreak of the Franco-Prussian War. The British National Society for the Sick and Wounded was established in August that year and Furley, a member of the Central Committee, was sent to carry out the society's work in France where the war was being fought. He worked in a variety of hospitals, dealing with patients on both sides of the conflict. Near Versailles, he established a depot of First Aid supplies, an experience that would prove useful later. Following the end of the war, Furley snuck into Paris and experienced life in the Paris Commune. In 1875 he would go on to witness the Carlist Wars in Spain and he coordinated care during the Eastern War of 1876.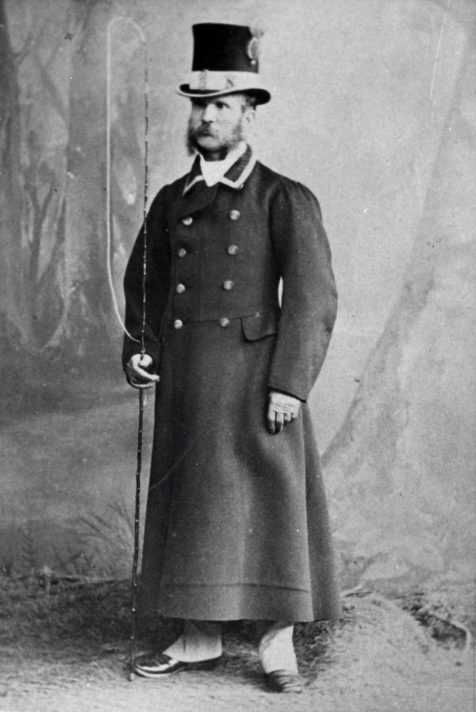 Furley stood apart from many of his contemporaries because he believed strongly that an institution like the Red Cross should exist in times of peace as well as war. He believed that not only would this maintain the quality of medical care during wartime, as the skills would be kept up, but he saw a need for first aid at home. At the time, there was no NHS or ambulance service meaning that it was difficult for people who were injured to receive adequate medical care. In consequence, many preventable deaths occurred.  This belief led Furley to separate from the Central Committee. A member of the Order of St John since 1864, Furley and several other members, who were frustrated at how slowly the Red Cross Society was being established, founded St John Ambulance to fill this purpose in 1877. Initially, the medical profession was sceptical of the organisation, however, it grew quickly and within six months there were twelve centres, training over one thousand people in the first year.
As St John Ambulance's first Director of Stores, Furley was responsible to finding and distributing important materials, putting his experiences of battle into practice. In this capacity he was based at St John's Gate, which was home to the store. He used his extensive experience observing the treatment of soldiers in field hospitals to determine what the most effective equipment for first aid.  He equipped St John Ambulance members with first aid manuals, bandages, stretchers and ambulance equipment. In this role he developed the original First Aid kit, the ambulance hamper, in 1879 to meet the immediate needs of injured people.
Furley continued to innovate, providing appliances that had a far-reaching effect. He again drew on his experiences with wounded soldiers to develop important new technologies for transporting the injured. Furley noted that the two primary models of stretcher available at the time had significant design flaws that made them impractical for civilian use. As a result, he set about modifying the design of the stretcher to develop the 'Furley Stretcher'. In addition to this he developed the 'Ashford Litter' which had two wheels to cater for circumstances where it was not possible to carry a stretcher during the recovery of a patient. This innovation led to the development of a whole new industry in Ashford, Kent where they were produced and sent around the world.
Although he resigned from office in 1891, Furley continued to sit on the central executive committee of the St John Ambulance Association and carried on developing new first aid technology. He served as Chief Commissioner of the Central British Red cross Committee in the South African War in 1900 and designed a train for transporting patients at the request of HRH Princess Christian. Throughout the war, the train travelled 42,115 miles and carried 7,208 patients. Given this pioneering work, it is no surprise that he was asked to advise on the use of hospital trains during the First World War. His expertise was widely acknowledged, and he was invited to sit on the juries for many prizes regarding ambulance materials and transportation. In addition, he served as a delegate at almost every International Red Cross Congress held in his lifetime, including the revision of the Geneva Convention in 1906. Furley was knighted in 1899 for his services and was later made a Companion of Bath and a Companion of Honour. He died on 27th September 1919.
Although it is difficult to get a clear impression man, his story has been romanticised in many of the sources, it is obvious that he was held in high regard by his contemporaries and made a significant contribution to both the development of first aid, and the development of first aid technology.
Bibliography
Clifford, Joan, For the Service of Mankind: Furley, Lechmere and Duncan St John Ambulance Founders, Robert Hale & Company (London, 1971).
Corbet Fletcher, N., Annals of the Ambulance Department; Being the history of St. John Ambulance Association and Brigade, The St John Ambulance Association (London, 1949).
Furley, John, In Peace and War, Smith, Elder & co. (London, 1905).
Furley, John, 'A Paper Presented by John Furley at the General Assembly on 25th June 1877', The Proper Sphere of Volunteers for the Relief of Sick and Wounded Soldiers in War, Harrison and Sons, St. Martin's Lane (London, 1877).
Report of the Chapter General for the Year ended 31 December, 1919, 1919 Annual Report, Museum of the Order of St John, Clerkenwell, London.