Although young people have been involved in the lifesaving work of St John Ambulance since the 1880s, it was not until March 1922 that the St John Ambulance Brigade Cadets were inaugurated . The success of the Boy Scouts and Girl Guides (formed in 1909) had demonstrated the widespread appeal of civic participation amongst the young and the onset of the First World War served to highlight the importance and impact of youth voluntarism.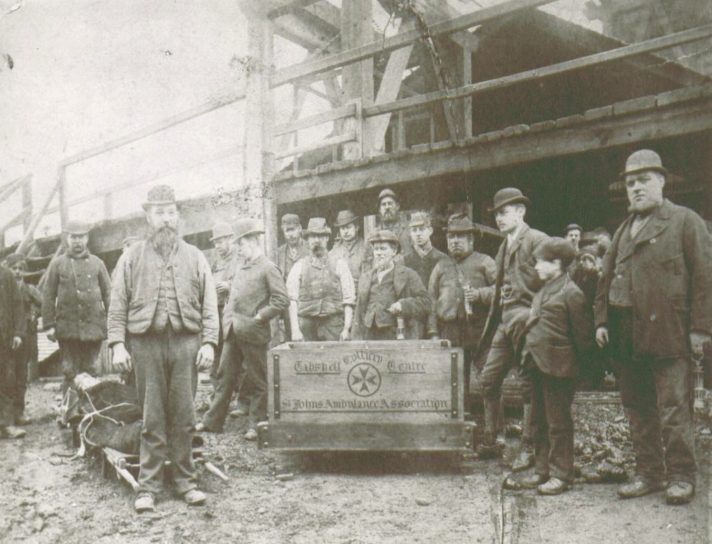 Undoubtedly, these early youth movements served as a catalyst for renewed discussions about the establishment of an official youth wing for the St John Ambulance Brigade in 1921. At first, the Order hoped to capitalise on the popularity and success of the Boy Scouts and approaches were made to establish scout troop divisions of the Brigade. When these talks fell through, St John went ahead with its own youth wing, offering young people, the opportunity to learn first aid first aid and home nursing.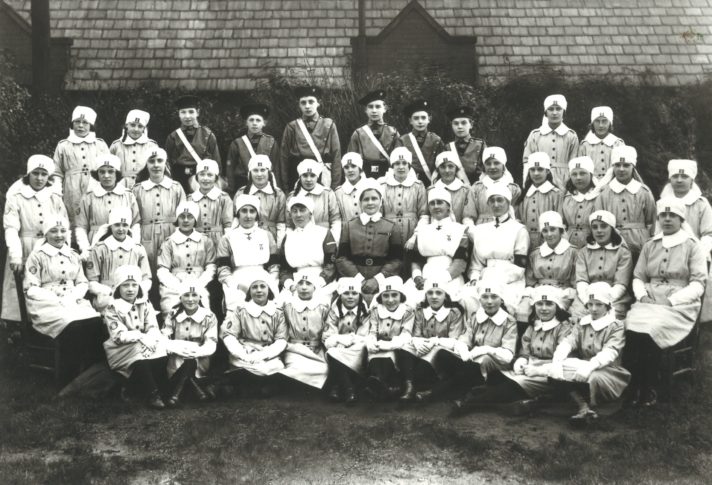 By the late 1920s, it was realised that like other youth organisations, a greater variety of subjects were needed in order to maintain the interest of the Cadets. The Grand Prior's Award Scheme began in 1931 and to this day remains the highest award a Cadet can achieve. The scheme was designed to encourage the attainment of a wide range of proficiency subjects including First Aid, Home Nursing, Camping and Nature Study, Fire Fighting and Air Raid Precautions. To achieve their Grand Prior Award, Cadets had to complete 12 subjects through which, it was hoped that they would become responsible citizens whilst also having fun. Like their adult counterparts, Cadets were also encouraged to take an active part in public duties and to prepare for accidents and disasters so that they were ready should they be the first on scene in an emergency.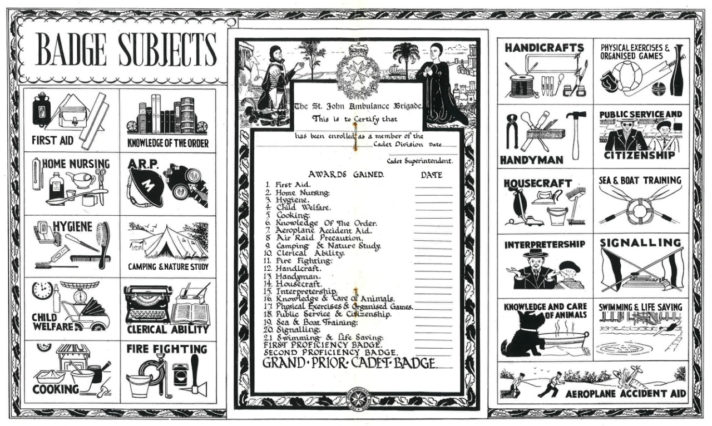 Although many of the activities Cadets participate in have changed over time, serving others, particularly those who are suffering or in need, has remained their constant priority throughout the century. 2022 marks the hundredth anniversary of the official establishment of the St John Ambulance Cadets (11 – 18-year-olds) and the 35th anniversary of the establishment of the Badgers (5 – 10-year-olds). In today's talk, I am going to highlight just a few of the incredible acts of heroism carried out by St John Ambulance's youngest volunteers.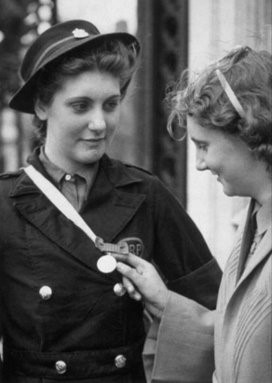 Throughout the Second World War (1939-1945), St John Ambulance and the British Red Cross worked hard to provide medical and welfare support for British civilians and soldiers. A new badge for 'War Service' was established to award Cadets for their contribution to the war effort. To obtain the badge, Cadets had to complete 300 hours of duties in a recognised war service including, but not limited to; caring for the children of newly employed women in War-Nurseries, collecting and mending books for distribution to military convalescent hospitals, supporting civil defence, various agricultural work and fundraising.   
The conflict pervaded every aspect of daily life bringing war right into the home through aerial bombing. Betty Quinn, one of the youngest recipients of the George Medal for gallantry, was a St John Ambulance Cadet who saved the lives of seven people during the Blitz. On the night of November 14th 1940, the Luftwaffe launched a devastating attack on the city of Coventry where Betty, a 17-year-old Cadet, was giving first aid at an ARP post as a shower of incendiary bombs fell on the district.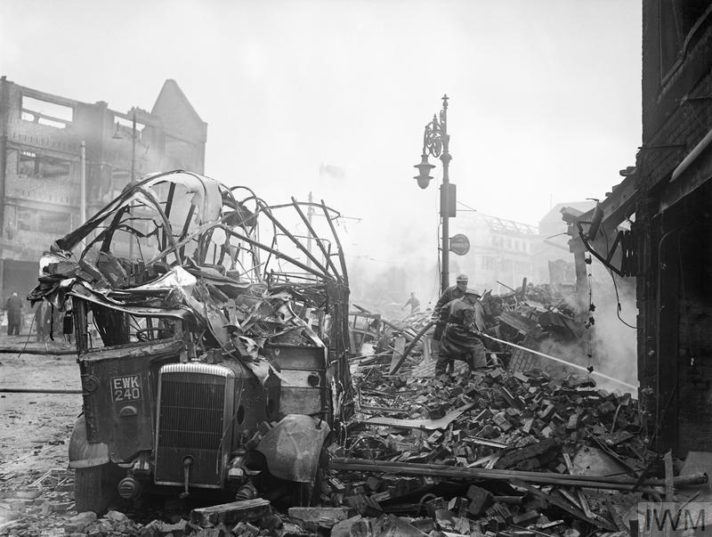 The citation for Betty's award states that:  
'Without waiting for assistance, she ran outside. At this time AA batteries were putting up a heavy barrage and shrapnel was falling all round. Bombs began to fall and a man was injured by one. Miss Quinn assisted him to a private shelter. A report came in of an Anderson shelter receiving a direct hit and although bombs were still falling, Miss Quinn ran there and commenced digging in the crater with a spade. She remained there and assisted to dig out seven persons who had been trapped and then attended to their injuries.' 
Betty Quinn only stopped when the last person had been placed in the ambulance and she had handed over her patients to the professional medical authorities. She then returned to the ARP post and continued to provide first aid treatment to those in need until the end of her shift – a truly humbling account of heroicism.  
As well as assisting in times of war, a founding principle of the St John Ambulance Association (and later the Brigade) was to also provide first aid and healthcare during peacetime. In 1953, Britain experienced its worst natural disaster in the twentieth century. A huge tidal surge devastated the low-lying towns and villages on the east coast leaving 307 people dead and 40,000 homeless.
A lack of preparedness on a national level meant that the emergency response was almost entirely led by the local community. St John Ambulance Cadets from Essex, Suffolk, and London were called upon to help with the relief effort. The Cadets assisted with the evacuation of flood victims, supporting child welfare, sorting and distributing comforts, delivering messages and caring for the elderly and homeless. One Cadet, 16-year-old John Price from Gray's Cadet Division in Essex, worked for over 30 hours rescuing people from their homes.
He was awarded the Life Saving Medal in Silver and the American Cup for Gallantry for his work rescuing people from their flooded homes. The Life Saving Medal was presented to him by HRH Prince Richard, Duke of Gloucester, the Order of St John's Grand Prior, on 10th July 1953 at an investiture held at Buckingham Palace.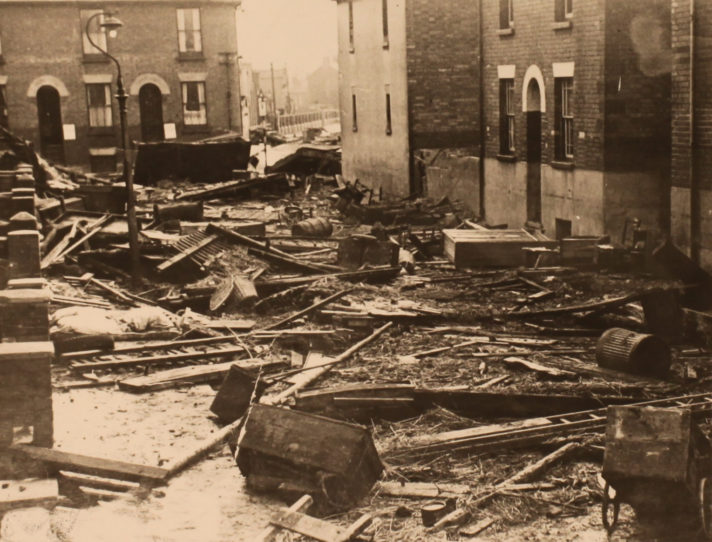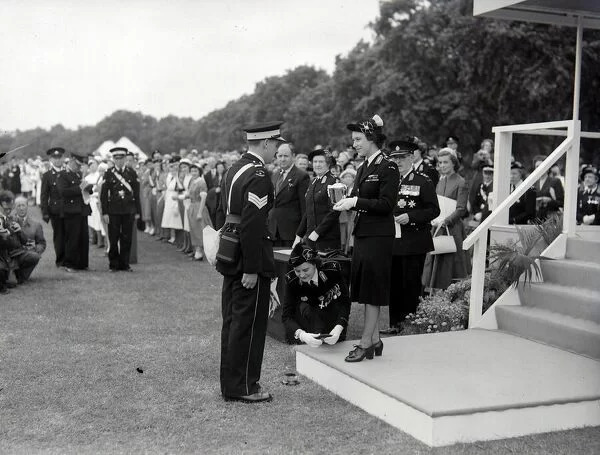 During The Troubles in Northern Ireland, several Cadets were awarded medals for their bravery as they saved the lives of some of the violent conflict's victims. Hilary Ferguson and Lee Moore, both Cadets from the Forth River Nursing Cadet Division in Northern Ireland, were entering a milk bar on Castle Street in Belfast when a bomb ripped through the next-door restaurant. Bustling with Saturday afternoon shoppers, the attack on 4th March 1972, known as the Abercorn Restaurant Bombing, claimed the lives of two young women and injured over 130 people. When the bomb went off, Hilary and Lee, both fifteen years old, immediately made their way towards the scene and identified themselves as first aiders. Many of the victim's injuries were severe and included the loss of limbs and eyes. At considerable risk to themselves – both from falling masonry and the possibility of a second bomb – the two Cadets administered first aid and assisted with the evacuation of the injured.  Hilary and Lee were both awarded the Bronze Life Saving Medal by HRH Princess Anne on 23rd July 1972 at the Cadet Rally in Hyde Park.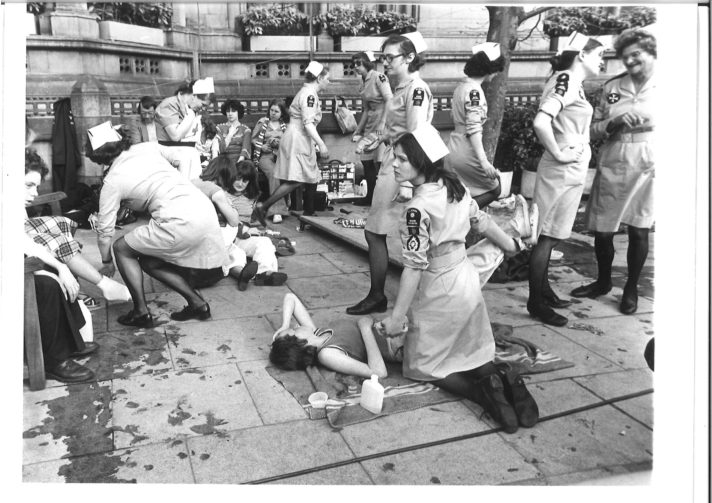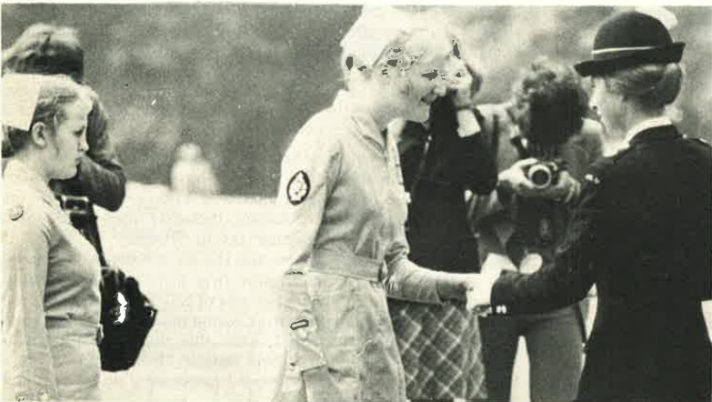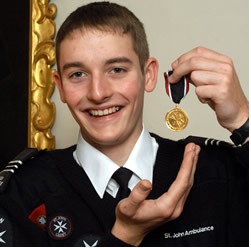 Many St John Ambulance volunteers never expect to use their first aid skills in a life-or-death situation. Seventeen-year-old Paul Swift, a Cadet from Lancashire, was walking along the Leeds and Liverpool Canal with his girlfriend following a dentist appointment on 22nd April 2003 when they heard a woman moaning from the water. Without thinking, Paul dived into the canal where he saw a woman and her daughter struggling in the water. The young girl was face down and so Paul immediately pulled her out, checked her airways and put her into the recovery position. Despite the strong currents, he then jumped back into the water to help her Mum. When he was later interviewed by his local paper about the incident, Paul said "At St John Ambulance we learn all the basic skills and it is really important for everyone to know as much as they can. I never expected to have to use my skills but I was glad I could rely on them when I needed to." For his heroic efforts, Paul was awarded the highest honour and was presented with the Gold Life Saving Medal. 
Today, there are around 10,000 St John Ambulance volunteers under the age of 18 all of whom practice first aid as a core part of their training. They all actively serve their community, many delivering over 1000 hours of community service each year. From the provision of first aid at large public events, to training their peers, most recently St John Ambulance Cadets have supported the NHS Covid-19 vaccination programme as vaccination centre marshals, administrators, and supply chain operatives. Some Cadets were even trained to become volunteer vaccinators. 2022 marks the centenary of the Cadets inauguration into the St John Ambulance Brigade. While the subjects that they can participate in to achieve their Grand Prior's Award remain broad and include everything from adventure skills to leadership and teamwork, first aid and healthcare always remain at the heart of the contribution Cadets make to their communities.