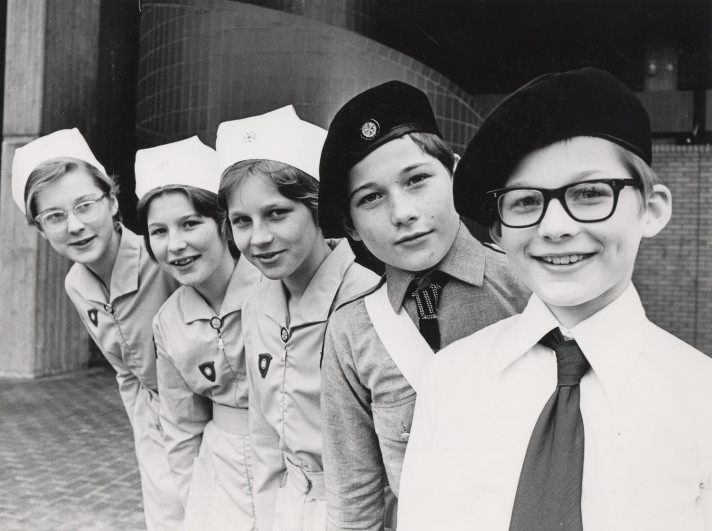 2022 will mark the hundredth anniversary of the official establishment of the St John Ambulance Cadets for St John Ambulance volunteers under 18, and the 35th anniversary of the establishment of the Badgers for under-11s. Over that time the programmes for young people have evolved from focusing exclusively on first aid and home nursing, to offering young people a much broader range of opportunities and experiences, while still retaining healthcare at their core. 
Since its foundation in 1877, the St John Ambulance Association encouraged schools and other youth organisations, such as the Boys' Brigade and Dr Barnado's, to do first aid courses, and St John introduced a junior first aid course in 1893. Early St John Ambulance Association centres and Brigade divisions were based in railway stations, mines and factories, where serious accidents were not uncommon. Until the early 1900s, it was still legal for under-13s to work, so there would have been many workers under 18 who were St John Ambulance members. 
In 1903, the first two junior divisions were set up (in Sutton-in-Ashfield and Digby Colliery) but neither lasted long without national support. After the First World War, in March 1922, a junior wing of St John Ambulance – the Cadets – was officially established. Other countries soon followed, with the first overseas Cadet division formed in Bombay (now Mumbai) in 1925. Like adult members, these early Cadets were divided into girl divisions (later called nursing divisions) and boy divisions (later called ambulance divisions).  
Alongside first aid and home nursing, new subjects, including nature study, fire-fighting and home-craft were introduced in 1928, when the first edition of the Juvenile Manual was published. In 1933, the first Grand Prior's Badges were awarded to those Cadets who had completed a requisite number of badges. They continue to be awarded across the world to this day.  
There was a great surge in Cadet membership during the war, as young people looked for ways that they could help others during the blitz. Betty Quinn, a seventeen-year-old Cadet was the first member of St John Ambulance to be awarded the George Medal for Bravery. During the raids on Coventry in 1940 she dug a family out of a collapsing air raid shelter and treated their wounds while the bombs continued to fall around her.  
The war service badge was introduced for nursing cadets in October 1942 and for ambulance cadets in April 1944, to encourage them to provide extra help in the community when it was needed most. After the war, the war service badge was replaced by the special service shield, which was awarded to cadets who had completed over 200 hours of voluntary service. Today, Cadets work towards the Cadet Service Award, which is given at various levels for between 50 and 3000 hours of voluntary work. 
The Royal Family have always been patrons of the Cadets, just as they have been of the wider charity. Princess Margaret was appointed as the first Commandant-in-Chief of the Cadets in 1948 and today this position is held by The Princess Royal. In 1953 a Coronation Camp was attended by 2000 cadets from the UK and overseas in honour of the Coronation of Queen Elizabeth II. Summer camps where Cadets could take part in rescue and adventure exercises were becoming a regular feature of Cadet life, and they continue to be a part of activities today.  
Over the years, a number of Cadets have been awarded the Order of St John's Life Saving Medal. The east coast of England was struck by serious flooding in February 1953 and Cadets in Essex, Suffolk and London helped with the evacuation of flood victims, child welfare, sorting and distributing comforts, delivering messages, and the care of the elderly and homeless. One Cadet, 16-year-old John Price, was awarded the Life Saving Medal in Silver for his work rescuing people from their flooded homes. 
During the Troubles in Northern Ireland, two cadets, Hilary Ferguson and Lee Moore, were awarded the Life Saving Medal in Bronze in 1972 for their work in caring for the victims of the bombing of the Abercorn Restaurant. Then, in 1979, another two cadets, Jim McAuley and Paul Darragh, were awarded the Life Saving Medal in Bronze for treating a man who had been shot. 
Competitions have always been an important part of Cadet life and Cadets have competed in activities as varied as poetry, drama, football and, of course, first aid. In 1986, the National Cadet of the Year competition was established, recognising the Cadet who scores highest in a series of challenges, including first aid.  
A big party was held in Hyde Park in 1987 to mark 100 years of the St John Ambulance Brigade. In celebration, the St John Ambulance Badgers were established for under-11s, although this age group had already been taking part as Juniors since 1948. Under-11s are named after black and white animals because St John Ambulance uniform is traditionally black and white. As well as Badgers, there are Penguins in New Zealand, Pandas in Hong Kong, and Kitties in Sri Lanka. Bertie Badger is the mascot of the St John Ambulance Badgers in England and Wales and Badgers who complete nine badge subjects, including first aid, become Super Badgers and are awarded a porcelain Bertie. Today's subjects include Performance Badger, Eco Badger and Community Badger. 
Although the uniform has traditionally been black and white, for Badgers and Cadets as well as for adults, St John Ambulance introduced a green uniform in the early 2010s. For the first time Cadet uniform is the same as adult uniform. Today the Cadets and Badgers form the largest part of St John Ambulance's membership worldwide and a recent survey of St John Ambulance Cadets showed Cadets learning the skills to provide event first aid cover as the most important part of the Cadet programme.  
Many Badgers and Cadets go on to become lifelong members of St John Ambulance. Whilst first aid and healthcare are at the heart of St John Ambulance, being a Badger, a Cadet or an adult volunteer is also lots of fun, very sociable and really rewarding.